Como ama una Mujer is the title song from Jennifer Lopez's album "Como ama una Mujer."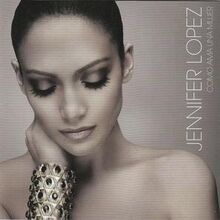 Quizas me he apresurado a pisar sin ver los pasos
A dejar que las heridas no sanaran bien
Quizas por impetuosa he dejado tantas cosas
que eran parte del camino, parte de crecer

Quizas porque tan solo he sido una
Que ha sido enamorada de la luna
Tan solo eso ha sido mi pecado
El de seguir mi corazon a todos lados
Seguir mi loco corazon a todos lados

Y HE AMADO COMO AMA UNA MUJER
QUE VE EN SU HOMBRE EL PARAISO
SI ME ENTREGE LO HIZE TOTAL
Y SI FALLE VOLVI A EMPEZAR
Y A LEVANTARME EN EL CAMINO

YO AMADO COMO AMA UNA MUJER
QUE EL ALMA NO LA HA ABANDONADO
Y QUE LO INTENTA UN DIA MAS
Y QUE HA SONADO CON SONAR
Y POR AMAR SE HA EQUIVOCADO
Y POR AMAR SE HA EQUIVOCADO

Quizas no habido espacio
Para ver bastante claro
Y al final de la jornada tuve que perder
Si me ha llevado el viento he
Vivido mis momentos
Y al final en mi conciencia solo tuve fe

Y solo por seguir esta locura
De la pasion que rapido se esfuma
Tan solo por creerlo nuevamente
Por no caer y a veces no desvanecerme
Por toda la necesidad de hacerme fuerte

[Repeat Chorus]

Ad blocker interference detected!
Wikia is a free-to-use site that makes money from advertising. We have a modified experience for viewers using ad blockers

Wikia is not accessible if you've made further modifications. Remove the custom ad blocker rule(s) and the page will load as expected.