Te Voy a Querer is a track from Jennifer Lopez's album "Como ama una Mujer."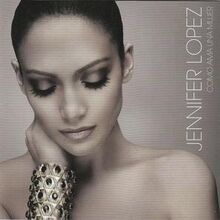 Aunque todo lo que ves se terminara
Aunque ya nunca volviera a amanecer
Si de pronto en el silencio me encontrara

Yo me iria tras de ti lo sabes bien
Y si fueras tu mi ultima esperanza
Tras tu huella mi camino buscare

Creo en eso que el amor te lleva al cielo
De pedirme en el naufragio, salvame
Creo en eso de esperar el dia nuevo

Que lo nuestro es para siempre ya lo se
Y que importa si el destino se indignara
O si alguien dijera que este amor no puede ser
Ay yo...

Si tu voz no la escuchara entre mis suenos
Y tus ojos no me guiaran para ver
Volveria de otra vida por tu encuentro
Volveria para verte creeme [x2]

Ya las dudas y los miedos se me fueron
Ya no tengo mas secretos que esconder
Y a partir de este momento yo decreto

Que no hay nadie que me pueda detener
No voy a pensar en que vendra manana
Quiero despertar contigo cada amanecer

[Repetir Coro]

Las penas pasadas ahora son historia
El umbral de las traiciones ya cruze
Siento que tu amor me llevara a la gloria
Estoy lista pa' quererte ya lo se

[Repetir Coro]

Te voy a querer aunque
Se oponga el viento
Y nadie este de acuerdo,
Te juro que esta ves
Ay yo

Te voy a querer sin pedir opinion
Sin dar explicaciones
Soy libre pa' escoger
Ay yo
Te voy a querer

Ad blocker interference detected!
Wikia is a free-to-use site that makes money from advertising. We have a modified experience for viewers using ad blockers

Wikia is not accessible if you've made further modifications. Remove the custom ad blocker rule(s) and the page will load as expected.